delanceyplace.com 6/3/13 - eli whitney's failed cotton gin
In today's selection -- every schoolchild learns that Eli Whitney invented the cotton gin, which transformed the economy of the entire country. However, Whitney may not have invented the cotton gin, and his cotton gin business was a failure. He was rescued from financial calamity when he won a contract to manufacture weapons for the U.S. military:
"For a century and a half after his death, Eli Whitney was virtually canonized as the Father of American Technology. According to the traditional story, Whitney was the inventor of the cotton gin, which transformed the antebellum South (and unfortunately reinvigorated the institution of slavery). ... [However], some recent work ... raises doubts as to whether he invented his cotton gin. ...
"The record is mostly silent on Whitney's first year in the South. But he never made it to his tutoring job, and a year after his arrival, he patented his cotton gin in partnership with Miller. Their business plan was to leverage control over ginning technology to create ginning centers throughout the cotton country, charging 40 percent of the ginned cotton. Whitney returned to New Haven to manufacture the gins, while Miller created and marketed the local centers. Financing came primarily from the mistress of Miller's plantation, Constance Greene, a widow whom Miller eventually married.
"The business was a failure. Their pricing was extortionate, and their gin, while a substantial advance, was relatively easy to replicate. The next few years were a nightmare of endless patent litigation, with few victories, rising indebtedness, and the looming bankruptcy of Mrs. Greene. The French war scare in 1798 came just as Whitney was reaching the end of his rope. As he later wrote to a friend, 'Bankruptcy & ruin were constantly staring me in the face .... Loaded with a Debt of 3 or 4000 Dollars ... I knew not which way to turn.'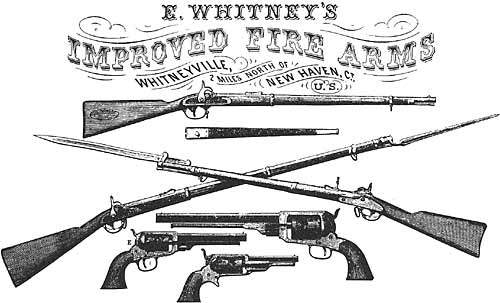 "Then Whitney came across a federal circular recruiting gun manufacturers. He wrote to the Treasury secretary, Oliver Wolcott, another Yale man, that his gin factory had been idled by disruptions in trade and that he proposed to 'undertake to Manufacture Ten or Fifteen Thousand Stand of Arms.' Since the Whitney gin had been widely publicized in the North, Wolcott responded immediately with an invitation to Washington, 'knowing your skill in mechanick.' Barely a month later, Whitney had a contract for 10,000 stand of muskets on a French pattern, to be delivered in stages over the next two years. The total contract price was $134,000, with a $10,000 advance for tooling: it was the largest of the private gun contracts and the first with an advance. The only objection within the administration was that the schedule was unrealistic, which was true. But the schedule was furthest from Whitney's mind: as he wrote to his friend, in the nick of time he had won a large contract by which 'I obtained some thousands of Dollars in advance which has saved me from ruin.' "
---
| | |
| --- | --- |
| author: | Charles R. Morris |
| title: | The Dawn of Innovation: The First American Industrial Revolution |
| publisher: | Public Affairs a Member of the Perseus Books Group |
| date: | Copyright 2012 by Charles R. Morris |
| pages: | 122-124 |